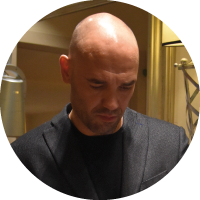 I started my career as an hairdresser in 1998. It was the great passion of my life, perhaps I have an innate disposition because I followed my family's footsteps.
I first worked in my aunt's hairdressing salon in Sesto Fiorentino then, from 1999 to 2002 I worked at  Wave Active Beauty in via Pisana.
Thanks to Fabio and Rosaria, two central figures for my vocational education, I learnt a lot and I understood what top quality work means.
Meanwhile I specialize in hair dyeing and join the "research group L'Oreal Tuscany".
I take part in various fashion shows including Polimoda's end of the year shows.
I was one of the hairdressers for the movie "Hannibal".
From 2002 to 2004 I work at the Allegri salon to strengthen my experience.
In 2002 I begin my career at the Aldo Coppola academy in Milan attending it for various fashion shows launches and for numerous training courses on hair cutting and shatush.
In 2005 I start my partnership with Renato to perfect my technique and compare with what is known as a quality fixture in the landscape of the Florentine hairdressers.
All of this while still attending the best Italian and European academies to keep up-to-date and to continue my professional growth.
In 2006 I start working with Massimiliano Dimaiuta, a top hairdresser and delightful person, who helps me improve especially in hair cutting and in refining the service provided. I learnt a lot from him about the importance of a salon ambience.
In 2009 I start my entrepreneurial activity by opening the salon "Lapo via dei Fossi".
I still go to professional updating courses, I conduct a personal search for styles and fashion, and I keep studying and looking for the best products to always offer an excellent service.
The haircut concept according to "Lapo via dei fossi".
The haircut is a tool we need to enhance and emphasize the shape of the customer's face, to enhance its qualities and conceal its flaws.
It is very important to study and give an initial diagnosis taking into account three basic elements:
1. The shape of a customer's face, which shows us the way forward in the development of forms and volumes to be created with the haircut.
2. The nature of the customer's hair. By examining the type of hair – straight, curly, fine or coarse etc, we get a key element for choosing a haircut and this will allow us to create forms that the customer will be able to manage easily once at home.
3. The customer's habits in looking after his/her hair at home. We always try to know the customers' habits so we won't offer haircuts difficult to look after like, for instance, suggesting a fringe to a customer who doesn't use a hair dryer and a brush when blow-drying his/her hair, or a layered and unstructured hairstyle to a person who hasn't got any dexterity in styling his/her hair.
Our hair cutting concept has evolved while searching for the best forms, always thinking at the best cuts to be easily  looked after at home.
There's no point in giving a customer a haircut that can only be perfect if it is looked after by a hairdresser. We believe the best haircuts are those that even after months allow our customers to still have a contemporary and manageable hairstyle.
In our salon we don't perform hair-setting only to enhance the quality of the haircut, as when a haircut is well done, it's better a natural uncombed hairstyle that a hairstyle performed by a hairdresser.